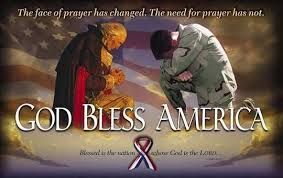 Yes there really is a National Day of Prayer. It's the first Thursday of every May. What do you do on the National Day of Prayer?
To all those who deny that America was founded on Christian and biblical morals, I have printed the exact message from President Abraham Lincoln's 97th Proclamation.
Read this carefully and note that this came from the Senate to the President's desk. Also notice how many times, the entire devotion and dependence on Almighty God is referenced.
Proclamation 97 – Appointing a Day of National Humiliation, Fasting, and Prayer
March 30, 1863
By the President of the United States of America
A Proclamation
Whereas the Senate of the United States, devoutly recognizing the supreme authority and just government of Almighty God in all the affairs of men and of nations, has by a resolution requested the President to designate and set apart a day for national prayer and humiliation; and
Whereas it is the duty of nations as well as of men to own their dependence upon the overruling power of God, to confess their sins and transgressions in humble sorrow, yet with assured hope that genuine repentance will lead to mercy and pardon, and to recognize the sublime truth, announced in the Holy Scriptures and proven by all history, that those nations only are blessed whose God is the Lord;
And, insomuch as we know that by His divine law nations, like individuals, are subjected to punishments and chastisements in this world, may we not justly fear that the awful calamity of civil war which now desolates the land may be but a punishment inflicted upon us for our presumptuous sins, to the needful end of our national reformation as a whole people? We have been the recipients of the choicest bounties of Heaven; we have been preserved these many years in peace and prosperity; we have grown in numbers, wealth, and power as no other nation has ever grown. But we have forgotten God. We have forgotten the gracious hand which preserved us in peace and multiplied and enriched and strengthened us, and we have vainly imagined, in the deceitfulness of our hearts, that all these blessings were produced by some superior wisdom and virtue of our own. Intoxicated with unbroken success, we have become too self-sufficient to feel the necessity of redeeming and preserving grace, too proud to pray to the God that made us.
It behooves us, then, to humble ourselves before the offended Power, to confess our national sins, and to pray for clemency and forgiveness.
Now, therefore, in compliance with the request, and fully concurring in the views of the Senate, I do by this my proclamation designate and set apart Thursday, the 30th day of April, 1863, as a day of national humiliation, fasting, and prayer. And I do hereby request all the people to abstain on that day from their ordinary secular pursuits, and to unite at their several places of public worship and their respective homes in keeping the day holy to the Lord and devoted to the humble discharge of the religious duties proper to that solemn occasion.
All this being done in sincerity and truth, let us then rest humbly in the hope authorized by the divine teachings that the united cry of the nation will be heard on high and answered with blessings no less than the pardon of our national sins and the restoration of our now divided and suffering country to its former happy condition of unity and peace. In witness whereof I have hereunto set my hand and caused the seal of the United States to be affixed.
Done at the city of Washington, this 30th day of March, A. D. 1863, and of the Independence of the United States the eighty-seventh.
ABRAHAM LINCOLN.
By the President:
WILLIAM H. SEWARD, Secretary of State
Our country has changed dramatically since 1863. This was a time when we had a President and other government officials that were leading America by their faith and dependence on Almighty God. We stood out from the rest of the world. We openly and readily proclaimed our devotion and faith. It was nothing that we hid from or denied, and certainly nothing that offended people, as is much the case today.
The Bible was a revered book, whether you believed it or not, people honored it.
Not so today. The Bible is scorned and laughed at as just a story book full of fairy tales that you can't take seriously, while other religious books are held in the highest regard, and shame on those that would ever bring any type of discredit to them. They may even loose their life if they do.
It's time that is well over do, that those who claim that the Lord is the One True God, and He is their God, should not stand up, but take to their knees in humbleness and total dependence on Him, to confess the sins of this nation, and fall on the mercy of God, to heal our land and cleanse our nation from it's evil ways.  That God would restore us to wholeness, and once again be that beacon of light, that shines out into a dark world as a source for the kind of freedom, that only God can provide. That truly once again we can be "the land of the free and the home of the brave".
I started this post with the proclamation of President Abraham Lincoln, and I will end it with what God has to say to the nation that follows His ways. May God have mercy on us and heal our land.
"And if you faithfully obey the voice of the LORD your God, being careful to do all his commandments that I command you today, the LORD your God will set you high above all the nations of the earth.
And all these blessings shall come upon you and overtake you, if you obey the voice of the LORD your God.
Blessed shall you be in the city, and blessed shall you be in the field.
Blessed shall be the fruit of your womb and the fruit of your ground and the fruit of your cattle, the increase of your herds and the young of your flock.
Blessed shall be your basket and your kneading bowl.
Blessed shall you be when you come in, and blessed shall you be when you go out.
 "The LORD will cause your enemies who rise against you to be defeated before you. They shall come out against you one way and flee before you seven ways.
 The LORD will command the blessing on you in your barns and in all that you undertake. And he will bless you in the land that the LORD your God is giving you.
The LORD will establish you as a people holy to himself, as he has sworn to you, if you keep the commandments of the LORD your God and walk in his ways.
And all the peoples of the earth shall see that you are called by the name of the LORD, and they shall be afraid of you.
 And the LORD will make you abound in prosperity, in the fruit of your womb and in the fruit of your livestock and in the fruit of your ground, within the land that the LORD swore to your fathers to give you.
The LORD will open to you his good treasury, the heavens, to give the rain to your land in its season and to bless all the work of your hands. And you shall lend to many nations, but you shall not borrow.
 And the LORD will make you the head and not the tail, and you shall only go up and not down, if you obey the commandments of the LORD your God, which I command you today, being careful to do them,
and if you do not turn aside from any of the words that I command you today, to the right hand or to the left, to go after other gods to serve them".  Deuteronomy 28: 1-14
Are you in anguish over what is going on in America today? Does it go deep into your heart and soul what is taking place in this land of ours? We need people whose hearts have been moved and touched by God, to feel what He feels and see what He sees.
Listen to what David Wilkerson said about anguish, in this short video message. Listen with your heart and not your ears.

Walk through the streets of any large city and you will hear the sounds of busy activity. But imagine the streets of New York City, Pittsburgh, our nation's capital, as well as major cities along the eastern seaboard silent everyday at noon as people join together to pray.
Too good to be true? It happened in the 1850s and it all started at the Fulton Street Church in New York City.
In 1857, the leadership of the Fulton Street Church in New York City saw a sharp decline in church attendance. They tapped Jeremiah Lanpher to lead the effort to reach the unchurched of the city. Lanpher was a former merchant with no formal theological training. He wasn't sure how to proceed, so he organized a noonday prayer meeting. He printed up notices and handed them to anyone who would take one. On the day of the meeting, Lanpher waited.
Jeremiah Lanpher announced he was a city missionary and there was going to be a prayer meeting. No one showed up and he began praying. Twenty minutes later he heard someone coming up the stairs and that first time maybe two or three joined him. The next time someone joined him and then the room was filled. And so he went from one room to two rooms to three rooms and he went to the church sanctuary.
In the following months, noonday prayer meetings sprung up all across the city. In fact, many factories blew the lunch whistle at 11:55 a.m., giving workers the chance to rush to the nearest church to pray for an hour. Churches of all denominations were filled with people praying on their lunch break. This caught the attention of the media.
The Layman's Prayer Revival had the motivation that we must pray one hour. Jesus said, 'Could you not tarry with me one hour?' And they wanted to go pray during their lunch hour so there was fasting and great prayer. The editor of the Herald Tribune was looking out of his window at a few minutes before twelve and he was shocked to see men running from their places of business, bumping into one another and within a minute they all disappeared into churches. And he said what's going on? So he sent a reporter down to see what it was and he said, 'they are all praying.'
The next day he got all of his reporters together, put them on horses to cover the whole city. They came and said there must be fifteen thousand people. So he began to write stories, and then before you know it, there were twenty-five thousand. The more stories he wrote the bigger the meeting got. And he put them on horse to cover the whole city and they came back and they said there must be about forty thousand men praying through the lunch hour. What's happening here? Because New York was center of the world at that time, all over America, in Cleveland, Chicago, Denver, Los Angeles, people would read the New York papers and then revival began to break out.
Prayer meetings organized by lay leadership spread like wildfire across the United States. By 1859, more than one million unchurched Americans were won to Christ. God was pouring out His spirit, preparing America for one of its darkest chapters in history.
The layman's prayer revival took place two years before the Civil War. And think of all of the thousands men who were slain and cut down in battle. The only positive thing we can say is that many of them knew the Savior before they went into that battle.
Imagine if we all took an hour out of our busy lives to pray — what could happen?
Scott Ross
The 700 Club
There is another revival that is starting up in Detroit Michigan. Here is where you can get more information.
When driving to, from, and through Frankenmuth, Michigan, I'm always intrigued with the many small simple crosses in the front yards of the homes we pass by.
Those crosses are a statement of support for Frankenmuth's Christian foundation. Two years ago an atheist living there complained about two crosses on a bridge in town.
He requested that they be removed and the town removed them. He then decided that, since he was so successful with that, the city shield should also be changed since it had one it, along with other symbols, a heart with a cross inside signifying the city's Lutheran beginnings At that point, the residents decided they had had enough. Hundreds of residents made their opinions known by placing small crosses in their front yards. Seeing this quiet but powerful statement from the community, the man removed his complaint. Those simple crosses remain in those front yards today.
After passing those crosses for two years, it finally hit me that a small cross in millions of front yards across our country could provide a powerful and inspiring message for all Americans passing them every day.
I think it might be time to take this idea across America. We have an administration that says "we are not a Christian nation" and everywhere you look the ACLU and others are trying to remove from our history and current lives any reference to God, prayer, or the fact that our country was founded on Judeo-Christian principles. Our administration can't bring themselves to talk about "radical Muslims or Islamic terrorists" for fear of offending them, but they can talk about Americans "clinging to their guns and their religion", or insinuate that our own military troops coming home from service overseas might turn into terrorists. The majority of Americans are Christians, why are we letting this happen to us?
It would be a beautiful thing to see crosses all across America.
God Bless America!
Marci Phares
Bay City, MI
To read about the cross controversy in Frankenmuth:
http://www.mlive.com/news/index.ssf/2008/05/cross_controversy_in_frankenmu.html
http://abclocal.go.com/wjrt/story?section=ws%2Flocal&id%6078617